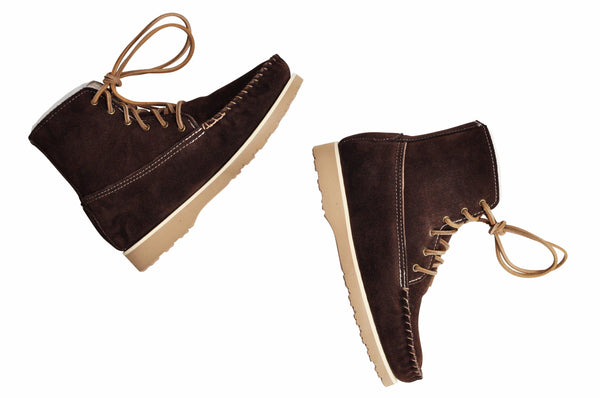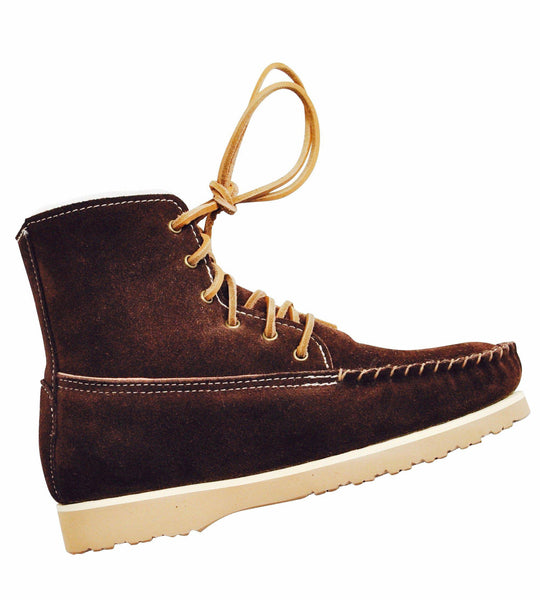 Women's
Chestnut Grove Boot
The Chestnut Grove Boot is lovingly handcrafted from rich brown suede and features a sumptuous cream leather lining in both the interior and insole, ensuring an exceptionally  comfortable fit. Standout details include a Vibram sole, vintage-style antique brass eyelets, and durable rawhide leather laces. Proudly made in the USA.

Each pair of these boots is individually tailored to order for our valued customers, so we kindly request your patience and allow 3-4 weeks for delivery. Made with pride in the U.S.A.
Because we manufacture our footwear in full sizes in a medium width, we recommend you go with your normal shoe size. However, if you wear a half size, we recommend sizing down (except for footwear that are lined in sheepskin) since we have a generous fit. For example if you are typically a size 8.5, we would recommend a size 8.
For the sheepskin lined moccasins/boots or if your feet are on the wider side, we recommend going up a size. For example, if you are typically a size 9, we would recommend a 10.
If you need assitance onsizing conversion, please use guide here.
We can also manufacture custom sizes and you can always ask us a question anytime: info@pierreponthicks.com
Please note that all items are individually made-to-order for each customer and will take 10-15 business days BEFORE they will ship.
All domestic orders are shipped UPS Ground and can take 3-5 days to arrive once they have been picked up by UPS.
Safeguarding Suede: To maintain suede's luster, employ a soft brush for cleaning. Refrain from using or applying any liquids, as they can leave unsightly stains or discolor the suede.
Caring for Leather Footwear: Given the natural oils within cowhide leather, there's no need for an initial finish. To preserve the leather and extend your footwear's lifespan, you may occasionally apply quality leather conditioners as necessary. Be mindful that certain products might darken the leather, so avoid those containing solvents.
Sheepskin Care: For sheepskin lining upkeep, an intermittent vacuuming effectively removes lint. In the case of soiled areas, you can gently hand wash the sheepskin with mild soap and water, followed by air drying. Alternatively, for freshening and soil removal, consider sprinkling talcum powder on the dry sheepskin and then vacuuming.